Romantic Cards:
A thoughtful ritual for expressing love

Note: 'Special Greeting for Gentlemen only'
click here!
Click here to find the Ideal Card for your Sweetheart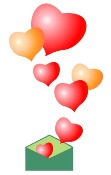 What is it about romantic cards that makes them so alluring and unforgettable? Is it the images? The words? Or simply the fact that they come from the one you adore? I'm not sure what the right answer is for you, but for me, it's definitely the words.
Picking out a romantic card is an entire ritual for me. And when I say ritual, trust me, it's a ritual alright – about a three to four hour one. The reason it takes me so long to decide on a card is because I see it as the single most personal representation of how I feel. It is my offering, my connection, my gift. And for some people who have difficulty expressing their feelings, a romantic card
can be a true savior.
My first step is to decide whether to make one , buy one or...just e-mail one! . It usually depends on how much time I have, whether I'm inspired to create, and if he's been a good boy lately! No matter which route I choose, the words inside the card are still my number one priority.
While most people prefer preprinted romantic cards, I like to start with an empty slate. An empty page leaves more room for self-expression – more space to think, plan, and compose a true work of art. That's what he'll remember – you, your words, and your love. In our crazy fast-paced world, people hunger for a little attention...and that's exactly what you can provide.
For those of you who'd rather eat dirt (or perform any other unpleasant activity) than put pen to paper, I have another suggestion. What if you express your feelings through a personalized collage? Use your own pictures or just cut out clippings of images that speak your heartfelt words. Look at the pictures, absorb them, transform them to represent the both of you...he/she'll love it! And who knows, maybe the pictures will inspire you to write a word or two as well.
---------------------------------------------------------------
The Romantic Cards Virtual Mall
If you're wondering what card to send that sweetheart of yours, take a look at the following stores I found and I guarantee you'll have just the card you're looking for.

Among the endless lists of online merchants, these stores offer some of the most refreshing products I've seen in quite some time.
If you're a creative type (and a bit crafty too ;-), the following inspired site might be your best choice: Kaleidosoul.com The Kaleidosoul is a place where you'll find not only amazing ideas on how to express your feelings, but also numerous resources (FREE ones too!) to help you create your own, one of a kind, magnificent cards. Creating your own soul cards and sharing them with those you love could be one of the greatest gifts you ever give -- both to yourself and your love.
A slightly less original store, but one that has a great selection of cards is CardStore.com
. What separates CardStore.com from their competitiors is that they give you an option of personalizing your greeting cards and offer to mail them (unlike most online stores that send only online versions of the cards). I think that's kind of nice, don't you? In a world that, for the most part, has forgotten about pen and paper, receiving a card in the mail should be a pleasant surprise. All you have to do is...
1. Select a card: choose from their card collection or upload your own image
2. Personalize your card: type a message for the inside of your card and tell them where to mail it
3. They print and mail the card for you -- anywhere in the world!
Click on the banner below to take a look at some samples.
You thought that was it, didn't you. Nope! I have a few FREE Goodies for you too -- a couple of sites just bursting with exceptionally cute romantic cards:
1. My sweetheart.com : I love this site because they have a card for just about every occasion you can think of. Great resource if you're looking to send a quick note to your honey. The Sweetheart.com gang lives for love...and they can help you strengthen yours as well. Just take a look at the quote below which is comprised of words they used to express their mission -- simple, yet meaningful. That's what I like. And think (or hope) you will to.
"Love makes each day so special & so beautiful...so just go ahead and express your feeling to your sweetheart and let her know the difference her presence makes in your life, with our romantic and sweet collection of sweetheart cards and greeting cards and feel the warmth of love with your sweetheart."
2. 123 Greeting.com : This store also has some pretty nice e-cards. Not exeptional, but still reflective symbols of your words. Just follow the store's suggestion below and you'll definitely get a little treat when you come home tonight. ;-)
"Love is all around, it's in the air... And in your heart too! Express your feelings and say those three magical words... 'I Love You' through these lovely, romantic, Love ecards and make your sweetheart/ spouse/ loved one feel special!"
I hope you find these resources useful and I urge you to use them. We all need tiny reminders once in a while...and a heartfelt card is the ideal memory-booster.

If I had a few final words of wisdom, they would be this -- feel, think, plan, buy or create, write or paste, spend time and give love! That's all.
RomanceIt!
More ideas on how to pick out, compose for, and create romantic cards coming soon...so STAY TUNED!
---
Return from Romantic Cards to Romantic ideas and Gifts
Return from Romantic Cards to Romantic ideas for life