Virtual Romantic Vacation:
"Las Leñas - Argentina"
'Las Leñas – an unforgettable destination for a virtual romantic vacation for those who can't get enough of the snow.'

Note: 'Special Greeting for Gentlemen only!'
click here
Undeniably one of the most beloved resorts in Argentina, Las Lenas is located in the Cuyo area of this magnificent country and sports a matchless snow quality, a huge variety of ski runs, and unbeatable unmarked locales for skiing, making it a wonderland of activity for all its guests.
According to Welcomargentina.com, a great resource for those considering a romantic vacation to Argentina, Las Leñas is located near the capital city of Mendoza and sits on one of the highest summits in Argentina. With its 1,200-meter vertical drop, 3,430-meter-high summit, and 2,240-meter-high base, it's now wonder that this locale is a dreamy paradise for skiers of all levels and is an internationally recognized destination of Argentina.
If you'd like to learn more about this one of a kind romantic vacation classic, visit Welcomeargentina.com If you decide on Las Leñas for your virtual romantic vacation (which I really hope that you do), you first might want to take a look at how I planned my trip.
Of course you'll probably create a different itinerary, but at the very least, you'll have a place to start.
Planning the Virtual Romantic Vacation:
Step 1: Choosing the virtual romantic vacation destination
1. We chose the living room as our 'fantasy room' for doing most of our brainstorming. We spent hours there just talking about our dream destinations and what we would see when we went on our virtual romantic vacation.
2. We came up with 3 destinations: 1. a ski resort called Las Leñas, in Argentina; 2. the island of Santorini in Greece; and the city of St. Petersburg in Russia.

3. After many discussions (and a few arguments :-) about going to South America to ski and a couple of unexpected changes in plans because of work obligations, we finally decided to go on a virtual romantic vacation to a ski resort called Las Lenas, located in Mendoza, Argentina.

Why not? We had seen lots and lots of pictures of this exquisite resort and absolutely loved it. Plus, with our crazy schedules, who knows when we would have had a chance to go there in person. So we figured, why not?

4. After deciding on the destination, our conversation turned to another very important aspect of a romantic vacation (at least to us) – food.
We talked and fantasized about drinking "mate" (a refreshing tea-like beverage made from Yerba Mate, an herb unique to that region), eating "empanadas" (dumpling-like pastries filled with chopped meat and other spices), and tasting "churros" (sweat, delicate pastries).
Don't worry. Of course we also talked about the other Argentinean treats such as skiing in The Andes and tangoing the night away….what would a trip to Argentina be without a little Tango?!
Step 2: Researching the virtual romantic vacation destination.
5. Doing the research was my task. I spent 2 days searching for useful sources and was lucky to find someone from that region to give me a few insider tips. One of Jay's coworkers is originally from Mendoza and was therefore able to give me lots of information and suggestions.
To recount all the details he gave me might take more time than you have, so instead, I've decided to give you a few sites where you'll be able to find everything that you'll need to go on this exquisite virtual romantic vacation.
Here are the sites:
Laslenas.com
Wikipedia.org
Gosouthamerica
Welcomeargentina.com 6. Hint: Las Leñas is one of the best ski resorts in the world. It has a world-class terrain, sizzling nightlife, exquisite wines, the sweetest hot coco, scrumptious regional pastries (my favorites are "media lunas" (croissant-like pastries) and "churros" filled with "dulce de leche"(very sweet milk, almost like caramel), cozy hotels, beautiful women, phenomenal fashion shows, and lots of white snow. What's my point? My point is that you don't want to miss out on this romantic vacation!
Step 3: Writing a check list and going shopping for your virtual romantic vacation.
7. We love food; anywhere we go, we always try to taste all the regional specialties. So we decided to make this specific virtual romantic vacation creation all about Las Leñas's yummies. And you can too. Here are the recipes that I used:

MEDIAS LUNAS DE NUECES(nut crescents)

INGREDIENTS:

1 2/3 cups flour
1/2 lb. unsalted butter
1 cup ground walnuts
1 tsp. vanilla
1/2 cup powdered sugar
pinch of salt

Mix the flour and butter together until they form crumbs. Add walnuts, vanilla, salt, and sugar and mix well. If necessary, chill dough about 1/2 hour or until dough is workable. Preheat oven to 375 degrees F. Cut dough into walnut-size pieces and roll each piece to about 3 inches in length. Shape each piece crescent by pulling it into a semicircle.

Place crescents 1/2 an inch apart on a baking sheet. Bake for 12-15 minutes until lightly browned. Dust with powdered sugar while warm.

Makes about 20 crescents.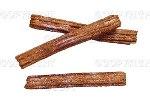 CHURROS

INGREDIENTS:

1 cup water
2 1/2 tablespoons white sugar
1/2 teaspoon salt
2 tablespoons vegetable oil
1 cup all-purpose flour
2 quarts oil for frying
1/2 cup white sugar, or to taste
1 teaspoon ground cinnamon

In a small saucepan over medium heat, combine water, 2 1/2 tablespoons sugar, salt and 2 tablespoons vegetable oil. Bring to a boil and remove from heat. Stir in flour until mixture forms a ball.

Heat oil for frying in deep-fryer or deep skillet to 375 degrees F (190 degrees C). Pipe strips of dough into hot oil using a pastry bag. Fry until golden; drain on paper towels.

Combine 1/2 cup sugar and cinnamon. Roll drained churros in cinnamon and sugar mixture.

DULCE DE LECHE:

INGREDIENTS:

1 gallon milk
1 vanilla bean
4 1/2 cups white sugar
1 teaspoon baking soda

In a large saucepan, bring milk to a boil over medium-high heat. Remove from heat and strain through cheesecloth. Return to pan.

Cut vanilla bean in half and pour the seeds in the milk. Stir in the sugar and replace the pan on medium-high heat, stirring constantly until the sugar is dissolved. Just as the milk mixture begins to boil, stir in the baking soda. Reduce the heat to medium, stirring constantly until mixture thickens. When a wooden spoon drawn through the mixture leaves the bottom of the pan visible, and the mixture is light brown in color, remove the pan from the heat.

Place the pan in an ice bath and stir constantly until dulce de leche is cold. Store in airtight container in refrigerator. Pour into sterile jars, and store in the refrigerator.

EMPANADAS

INGREDIENTS:

4 1/2 cups all-purpose flour
1 1/2 teaspoons salt
1/2 cup shortening
1 1/4 cups water, or as needed
2 tablespoons olive oil
1 small onion, chopped
1 1/2 pounds ground beef
1 pinch salt
2 tablespoons paprika
1 tablespoon cumin
1/2 teaspoon ground black pepper
2 hard-cooked eggs, peeled and chopped
1 quart oil for frying, or as needed

In a medium bowl, stir together the flour and salt. Cut in shortening using a pastry blender, or pinching into small pieces using your fingers, until the mixture resembles coarse crumbs. Use a fork to stir in water a few tablespoons at a time, until the mixture forms a ball. Pat into a ball, and flatten slightly. Wrap in plastic wrap and refrigerate for 1 hour.

Heat the oil in a large skillet over medium heat. Add the onion and cook until tender. Crumble in the beef, and season with salt, paprika, cumin and black pepper. Cook, stirring frequently, until beef is browned. Drain excess grease. Refrigerate until chilled, and then stir in the hard-cooked eggs.

Form the dough into 2 inch balls. On a floured surface, roll each ball out into a thin circle. Spoon some of the meat mixture onto the center, and then fold into half-moon shapes. Seal edges by pressing with your fingers.

Heat oil in a deep-fryer to 365 degrees F (180 degrees C). Place one or two pies into the fryer at a time. Cook for about 5 minutes, turning once to brown on both sides. Drain on paper towels, and serve hot.

8. Other 'tools' we needed for our virtual romantic vacation included: milk, chocolate, wine (Mendoza wine), the sound of wind, a fireplace, ski clothing, some fake snow, and a video of one of the winter fashion shows.

9. My next step was to get the missing equipment. But before doing that, I decided to try making all the recipes myself. Yes, that's me -- a curious, experimenting perfectionist. I can't help myself.
But just because I have this problem, doesn't mean that you have to go crazy as well. I'm sure whatever city you live in, you'll find an Argentinean neighborhood where you can find anything and everything you'll need for your feast.
Once my banquet was planned and I had the perfect wine, there were only a couple of other details left to be attended to. We already owned the ski equipment. So that was good. The only two additional purchases that I made were an amazing CD collection which included nature sounds such as wind blowing and birds chirping and a video of the latest winter fashion show from the region (with Jay's coworkers help, of course).
At last, I was done with my shopping. But there was still one more detail left – when and where we would take this vitual romantic vacation?
Step 4: Deciding on a time and place to take the virtual romantic vacation.
10. Choosing the time and place for your virtual romantic vacation is almost as important as choosing the destination itself. You want to have enough time to enjoy the atmosphere that you are so patiently and lovingly creating.
We decided to take our vacation in the living room because that's where our fireplace is. And we thought Saturday evening would be the best time for traveling because both of us didn't have to work the next day and would have plenty of time to prepare everything.
Step 5: Going on a romantic vacation…virtual style!
11. Ok…we're almost there. I tried all the recipes, prepared the hot coco, filled the "churros" with dulce de leche, primed the winter fashion show video, lit the fire, put lots of pillows on the floor, placed all the yummies and accesories on the coffee table, turned on the music (actually wind sounds), and sprinkled some fake snow at the entrance of the apartment.
And you want to know the funniest part? Jay and I actually wore our ski outfits. You don't believe me? It's true. That's exactly what we did because that's the point; not to be embarrassed and have lots fun. We sure did!
12. Finally we arrived at Las Leñas. Promise me you won't laugh…but we actually pretended that we just came back from skiing and walked into our chelae with our ski boots on.
Once we stepped into the hotel (our living room) and threw the snow flakes off of our boots, we sat on the floor near the coffee table and had the most unforgettable evening at one of the coziest hotels in Las Leñas.
We started at 7 pm and by 11, were having the most romantic conversation of our life. We drank wine, ate "empanadas" (Latin American pastries -- filled with meat), listened to Spanish speaking TV shows, felt the sound of the wind as though it came straight from the opened window, and watched the wood crackle as it was burning inside the fireplace.
It was paradise. We fell asleep on the floor hugging and embracing…breathing in pure love. It was sweet, it was romantic, and it was fun!
Step 6: Going back "home"…I know you don't want to…but you have to.
13. We didn't' want to go back home. But, unfortunately, one does have to return to reality sometime.
We slept until 2PM the next day. It was great to wake up on the floor with an empty bottle of wine, the snow under our feet and Jay by my side…what else could a girl ask for? Was it all a dream? Yes it was…it was a romantic dream come true!

RomanceIt!
---
Return from Virtual Romantic Vacation: Las Leñas to Vacationing Ideas

Return from Virtual Romantic Vacation: Las Leñas to Romantic ideas and Gifts