A Day of Pure Romance:
"A celebration for every day of your life!"
"The 24 hour Plan for a day of pure romance..."

Note: 'Special Greeting for Gentlemen only!'
click here
SHY ADMIRERS DARING TO UNMASK their Souls...LOVERS REMINDING EACH OTHER OF their DEVOTION....NEW SWEETHEARTS EXPRESSING GRATITUDE FOR HAVING FOUND each OTHER...WHAT OTHER DAY INSPIRES SO MANY MAGNIFICENT and HYPNOTIC EXPRESSIONS of the HEART as DOES the ONE and ONLY day of pure romance?
Dedicated to the people we love both openly and secretly, the day of pure romance gives us a chance to unburden the truths lying deep within our hearts.

I've chosen to create a day of pure romance because any day can be an extraordinary day of possibilities -- possibilities just waiting to be inhaled by those willing to let go and take a chance.

"Are you daring enough to catch your piece of your earthly bliss? I sure hope so!"
Tradition has it that we should celebrate specific occasions on specific days of the year: an anniversary, a birthday, Valentine's Day…all singular celebrations allowed to take place only once a year.
However, since I'm a bit of a revolutionary, I decided to declare each day of the year a day of pure romance. Why not? Shouldn't we have at least one occasion that we can celebrate all year long?
"Love should be celebrated every chance we get. Life is too short and precious to be put on hold."
I'd like to begin our daily celebration by planning the day of pure romance itself. A plan is always a good idea to have during moments of heated passion. Someone has to stay in control!
Remember that this is just one idea...so please feel free to mold it and play with it as you'd like.
Your Day of Pure Romance:

"Plan it wisely...""

Early morning:

I suggest beginning the day with a comfy, romantic breakfast in bed. Too lazy? Don't worry. You can actually ask any Gourmet shop to deliver a breakfast basket right to your doorstep.

How cool would it be to have a scrumptious treat of fresh roasted coffees and gourmet treats delivered right to your bed? Think about it...by treating yourself to a breakfast delivery, you could begin infusing your soul with love from the first moment you open your eyes. What better way could there be to start your sensually yummy day of pure romance?

Later Morning:

Place a small symbol of your love into your partner's pocket/purse/briefcase before she/he leaves the house. The token of your love could be anything from a simple card to a personally engraved amulet. The choice is yours, because after all, who knows your mate better than you do?

The only thing I ask is that you be as secretive as possible when planning your surprise because usually, the more unexpected a gift is, the BIGGER the affect it has.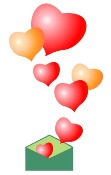 Early Afternoon:
How about mailing a personalized card right to your loved one's place of work? Or maybe you prefer to email one instead?
People are really touched when they receive cards and letters from those they love. There's just something about a written confirmation of a mates emotional commitment that makes everything else fall into second place.
Now if you decide to add a few personalized touches, such as a love quote, a romantic poem, a drawing, or a picture of the both of you…then you'll definitely be rewarded in ways you never could have imagined.
Other ideas such as an unexpected phone call, a bouquet of flowers or a box of chocolates would also be welcomed, I'm sure . But if you want to try something a bit more unconventional, try the ideas suggested in the Tool Box at the bottom of this page or in the Living section of this site.
Late Afternoon:
How's your day going so far? Ready to add another steamy idea to your day of pure romance? How about a Sensual Massage to release those tense muscles after a day of hard work?
Remember…the more relaxed your mate and you are the more open you will be to all sorts of FUN ideas, and most importantly, activities.
If the of a massage doesn't do anything for you, maybe you might consider a Spiritual bath. After all, water purifies the body and heals the soul…imagine what it can do for the both of you.

Evening:
I suggest you fill the evening hours of your romantic day with a Seductive Dinner for Two followed by an exotic game called Geisha for the Night . Food and play are amazing aphrodisiacs with the power to ignite the stalest of days and relationships. So if either has been plaguing your life lately, give these two romantic ideas a try...and you'll see what I mean.
Nighttime:
A few final notes to add to your day of pure romance are a couple of candles and one or two love songs. Oh yes...and the two of you, of course!
Now you're ready to let your imagination run wild. Release your inhibitions...express how you feel...and most importantly be yourself!
Are you worried that you're not too imaginative? Don't be. I think you're a lot more creative than you think you are. Let yourself go and experiment.
However, if you do find that you need a bit more help, just take a look at my Seduction page and I'm sure you'll find plenty of ideas to work with.
Well, there you have it – a magnificently romantic day of pure romance planned just for you. I hope you enjoy it!

HAPPY DAY OF PURE ROMANCE!
The day of romance TOOL BOX
Everything you need to plan and execute your 24 hour day of PURE ROMANCE!
Music

Poems

Quotes

Books

Gift Giving

Cards

Zodiac Compatibility
---
Return from A Day of Pure Romance to Romantic Ideas and Gifts

Return from A Day of Pure Romance to Romantic ideas for life